Le blog de la Bergerie
Un blog catholique et bilingue, franco-américain, sur la foi, la religion, le monde et la culture,
avec des articles, des prieres, des recettes de cuisine et des photos de nature.
A Catholic French-American worldview based on faith, reason and gratitude,
with articles and prayers, cooking recipes and nature pictures.
« Qui aime l'argent ne sera jamais rassasié »
(Ecclésiaste 5,9)
En lire plus sur l'argent ici sur Presence et Temoignage.
( est-ce un lieux de combat? un mal necessaire? Et la preference pour le pauvre, alors! )
"L'Eucharistie, même si elle constitue la plénitude de la vie sacramentelle, n'est pas un prix destiné aux parfaits, mais un généreux remède et un aliment pour les faibles.[51] Ces convictions ont aussi des conséquences pastorales que nous sommes appelés à considérer avec prudence et audace. Nous nous comportons fréquemment comme des contrôleurs de la grâce et non comme des facilitateurs. Mais l'Église n'est pas une douane, elle est la maison paternelle où il y a de la place pour chacun avec sa vie difficile"... (§47).

1. Quelques défis du monde actuel 52. L'humanité vit en ce moment un tournant historique que nous pouvons voir dans les progrès qui se produisent dans différents domaines. On doit louer les succès qui contribuent au bien-être des personnes, par exemple dans le cadre de la santé, de l'éducation et de la communication. Nous ne pouvons cependant pas oublier que la plus grande partie des hommes et des femmes de notre temps vivent une précarité quotidienne, aux conséquences funestes. Certaines pathologies augmentent. La crainte et la désespérance s'emparent du cœur de nombreuses personnes, jusque dans les pays dits riches. Fréquemment, la joie de vivre s'éteint, le manque de respect et la violence augmentent, la disparité sociale devient toujours plus évidente. Il faut lutter pour vivre et, souvent, pour vivre avec peu de dignité. Ce changement d'époque a été causé par des bonds énormes qui, en qualité, quantité, rapidité et accumulation, se vérifient dans le progrès scientifique, dans les innovations technologiques et dans leurs rapides applications aux divers domaines de la nature et de la vie. Nous sommes à l'ère de la connaissance et de l'information, sources de nouvelles formes d'un pouvoir très souvent anonyme. Non à une économie de l'exclusion (§52)
EXHORTATION APOSTOLIQUE EVANGELII GAUDIUM DU PAPE FRANÇOIS .
Happy Thanksgiving to all!
O most Blessed Holy Trinity, I am so grateful FOR YOU ! I could never thank you enough for the gift of faith and prayers, for your constant flow of forgiveness and love and compassion, for your unceasing help in discernment and courage. You've taught me so much and you've been so patient when I forgot or got distracted… Under your guidance, I can see the golden threads of the sacraments linking us to you, and I can see them at work in the world, from the big things (global and reported by all, such as advancement in the sharing of the Good News and progress in peace and compassion and justice) to the very small things in my own corner of the world (many petite good deeds enlightening our lives), and please I beg you, continue to give me fortitude to correct what needs to be corrected and readjusted, in me first, and possibly in others.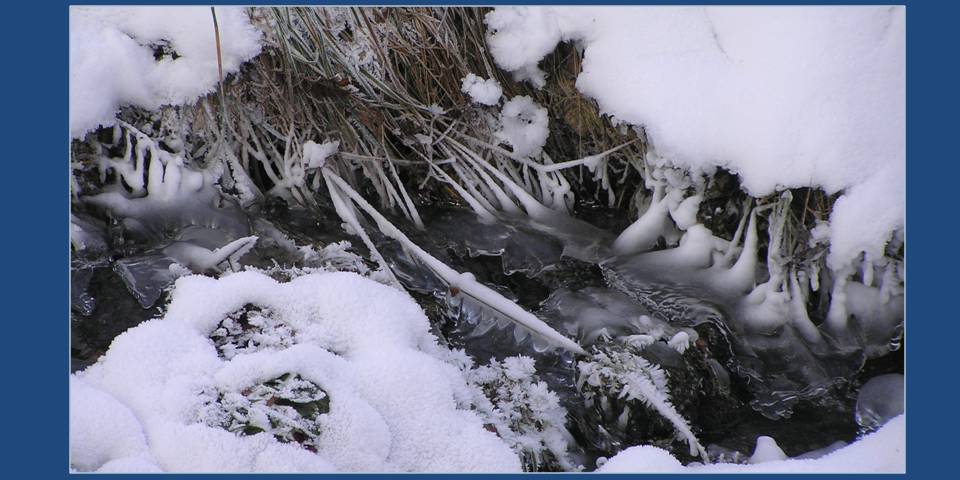 Ice in the creek by the chalet
Love and caring, healing and forgiveness beyond death? I asolutely LOVE this. Do you realize the consequences of this very essential Christian belief? It's wonderful. Here is an excerpt on purgatory: "The souls of the departed can, however, receive 'solace and refreshment' through the Eucharist, prayer, and almsgiving. The belief that love can reach into the afterlife, that reciprocal giving and receiving is possible, in which our affection for one another continues beyond the limits of death-- this has been a fundamental conviction of Christianity throughout the ages and it remains a source of comfort today. Who would not feel the need to convey to their departed loved ones a sign of kindness, a gesture of gratitude, or even a request for pardon?" "In the interconnectedness of Being, my gratitude to the other--my prayer for him--can play a small part in his purification. And for that there is no need to convert earthly time into God's time: in the communion of souls simple terrestrial time is superseded. It is never too late to touch the heart of another, nor is it ever in vain."
Journée de prière et de jeune pour la paix en Syrie avec le Pape François.
" Que le cri de la paix s'élève avec force pour un monde de paix. Plus jamais la guerre ! "
C'est l'appel lancé par le Pape François qui a confié toute sa douleur face aux événements en cours en Syrie.
A day of fasting and praying. Praying for Peace in Syria!
This is a beautiful opportunity to be part of a living global chain of prayers and good will.
Read Vatican news of today's gathering in Rome and Pope Francis homily... here
Thanks to today's technologies, social media, thanks to cell phones which can take photos and thanks to the internet, our global connectedness is tighter than ever... As long as we pray together! As long as good will is present - and today is such a day.
Today, the Pope wrote to his nine million followers on Twitter, "Pray for peace".
* * * * * * * * * * * * * * * * * * * * * * * * * * * * * * * * * * * * * * * * * * ** * * * * * * * * * * * * * *
I am sharing one of my prayer... It is a Trinitarian Prayer Before Going To Sleep!
see the whole prayer and photos
and explications here



* * * * * * * * * * * ** * * * * * * * * * * * * * * * * * * * * * * * * * * * * * * * * * * * * * * * * * * * *

A very good explanation of the Ordained Priesthood as understood in the Catholic Church:

In both Old and New Testaments, there are three ranks of priests, which are commonly referred to as the high priests, the ministerial priests, and the universal priests. This three-fold model of the priesthood which was in use at the time of Aaron was carried over into the New Testament and thus we find there also a high priest, ministerial priests, and universal priests. In the New Testament age the high priest is Jesus Christ (Heb. 3:1), the ministerial priests are Christ's ordained ministers of the gospel (Rom. 15:16), and the universal priests are the entire Christian people (1 Peter. 2:5, 9)….

Scripture takes the distinction between clergy and laity very seriously. Both Old and New Testaments warn people against assuming an office to which they have not been ordained. For example, I direct your attention to Jude 11, a verse most people gloss over when they read the book. That verse discusses various wicked Church leaders and states, "Woe to them! For they walk in the way of Cain, and abandon themselves for the sake of gain to Balaam's error, and perish in Korah's rebellion." It is therefore possible for people, even in the New Testament, to perish in Korah's rebellion by usurping the office of the priesthood….

If you read Romans 12:1, you find out that we present ourselves to God as wave offerings, for Paul tells us to offer our bodies to him as a living sacrifice. It is in this manner that the resurrected Jesus presents himself to God, as a wave offering, a living sacrifice, a living memorial that God may remember what he did on the cross and bestow upon us the graces of salvation. By his intercessory ministry in heaven, Christ continually presents to God what he did on the cross, he continually brings it before God as a memorial offering of what he did in the past, so that we might receive God's grace. This is true regardless of whether Jesus is actually or only symbolically present in the elements. I recognized this fact even when I was still a Protestant: Regardless of the doctrine of the Real Presence, the sacrament of communion is a sacrifice, just as the early Church said it was, and just as the Christian Church throughout the ages has understood it. We thus see the function of the temple - offering of sacrifice - being brought together with the function of the synagogue - teaching the people - into the New Testament church. Those who preside over the church thus incorporate both the functions of the Old Testament priest and the Old Testament elder. Thus in the Christian liturgy that has come down to us from the first century, the church first celebrates the Liturgy of the Word (synagogue service) followed by the Liturgy of the Eucharist (temple service.)

by Jimmy Akin . See the whole text here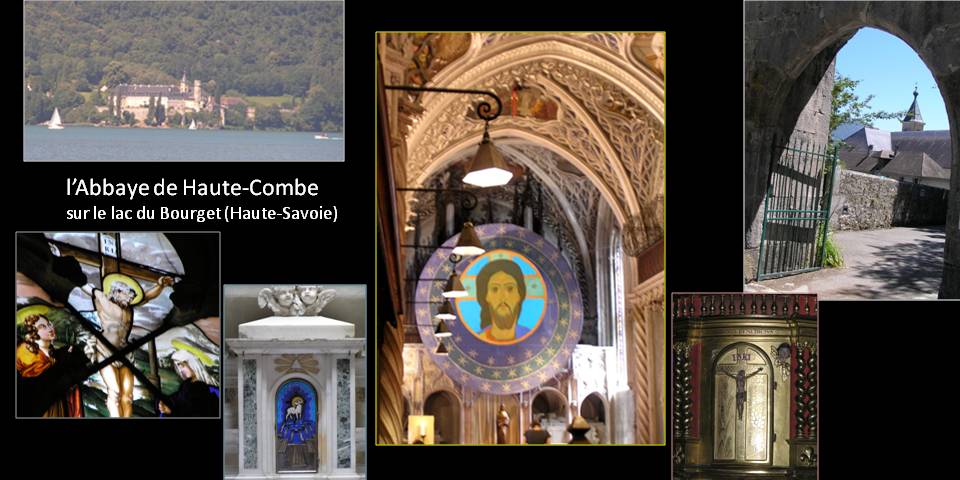 On August 1, I went to the abbaye de Haute-Combe for their noon mass.
In a couple of days, there will be the start of the summer retreat "Come To Paradise!" organized by the community du Chemin Neuf.
See more info here Young people just express the faith differently from my age group (think Rio!) but the Holy Spirit blows where He wants to
and sanctifies the world… Thank God for the gift of faith!
Pope Francis and WYD in Brazil
For a detailled listing of what is on this site,
for all the prayers, articles, recipes & nature photos on my site,
see the Site Map
Today, Wednesday July 17, is Saint Marceline's feast day!
Sainte Marceline: soeur de saint Ambroise de Milan (? 398)
Son père était préfet du prétoire de la Gaule transalpine et son frère s'appelait saint Ambroise, évêque de Milan. Elle reçut le voile des mains du Pape Libère dans la basilique Saint-Pierre du Vatican et suivit son frère à Milan. Ils échangèrent de nombreux courriers. En lire plus ici sur le site de Nominis.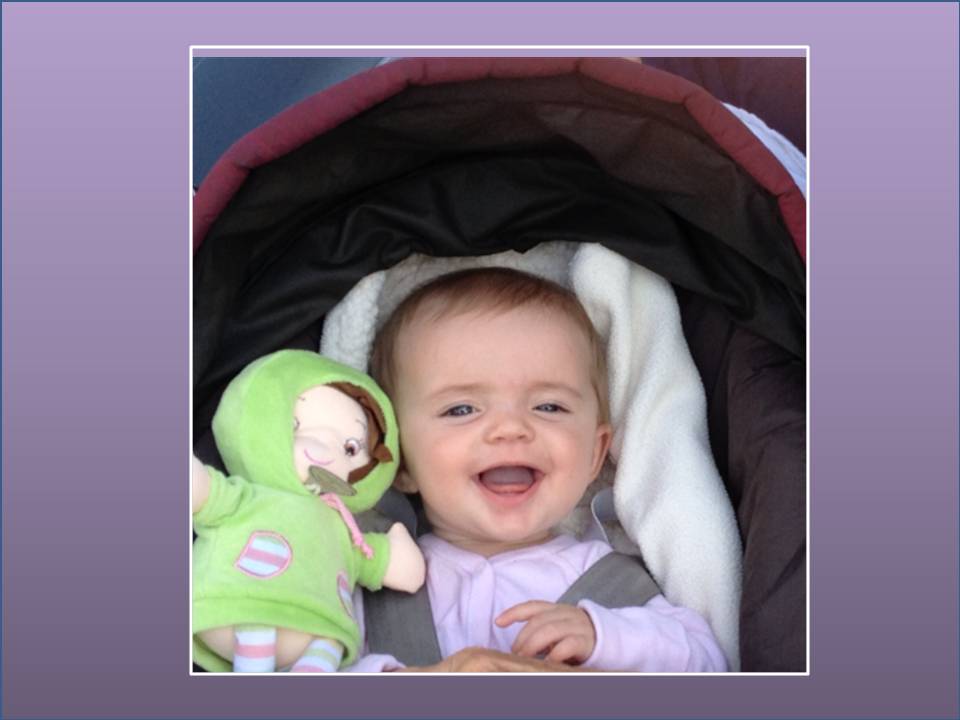 Pour une liste alphabétique des articles, prières, photos et recettes
sur ce site: clicquer sur Site Map
Morning light on May 18, fresh snow on the surrounding peaks, blooming lilac next to us.
I'm changing the format of this site! Because of family obligations, I have not been able to update it as often as I wished... plus the fact that there are so many very good Catholic sites, more every day. I started it in 2006 but now, in July 2013, I must admit that I have been wondering what I should offer here. I used the bilingual format of half in English and half in French but I am now ready to change it. I might just post a few photos for a while...
To see the old format for January to May 2013, click here! _________________________________________________________________________________________________________________________
---