August 2014 - Sharing the faith… in English:
St. Dominic and the demonic ape. by Sean Fitzpatrick. I love the concentrating capabilities and complete trust of Saint Dominic in this account! And he has NO FEAR. Read about it, about the facts AND the fantastic: "citizens of two worlds. Holy lore renders the invisible side of sainthood more visible, giving these heroes a dimension that rises above humanity and history." Read more here on Catholic Exchange
Prayers for Peace. Don't underestimate the power of prayers and the power of united people for one cause! Prayers, showing support, taking a stand with the afflicted, keeping yourself informed of what is going on, via the regular news AND other venues such as the Catholic press, the Vatican news, the numerous Christian blogs, the alternative media, the social networks. Actually, the social networks are absolutely key nowadays . What can we do besides prayers? We should keep this urgent need of the plight of persecuted Christians in Northern Iraq, first and foremost in our daily lives here, thousands of miles away. It certainly puts everything in the right perspective. We can talk about it with our family and friends, in our parish, at work, and see what we can come up with for relief. We can send money to relief organizations, we can demand that our local political leaders acknowledge the urgency and do something! But first and foremost, pray. This is a test of faith for us too, for us safe and secure in our homes in the West. We need to have faith, more today than yesterday, we need to develop trust and hope everyday, turning to Christ every time. Loving God and loving our neighbor, whether he is next door, in the next cubicle or across the globe. Whether we feel confused, overwhelmed or inspired, we need to start with prayers. Read the psalms, read the Gospel of John, read the letters of Paul and offer it to God. Pray without ceasing. Since we are all linked together, if we aim to be better today than yesterday, if we aim to let His will flow through us, I completely trust that it will help our brothers and sisters in the Middle East, that somehow, thanks to the grace of God, the mercy of Christ and the sanctifying power of the Spirit, it will benefit us all. There are many organized events of prayers and I was dreaming of doing a google map of them but in the meantime, here is one event in Denver: an evening of interreligious prayer for peace in the Middle East on Monday, August 11, 2014, at 7 p.m. at the Cathedral Basilica of the Immaculate Conception, see here
I went to a wonderful pilgrimage to Ars in May ! I put photos and comments in English and in French - 2014 here
Jeudi 8 mai 2014 Pèlerinage provincial pour les vocations : Donne-nous la joie d'avoir des prêtres !
I had already gone to the same diocesan pilgrimage in 2010, see photos 2010 here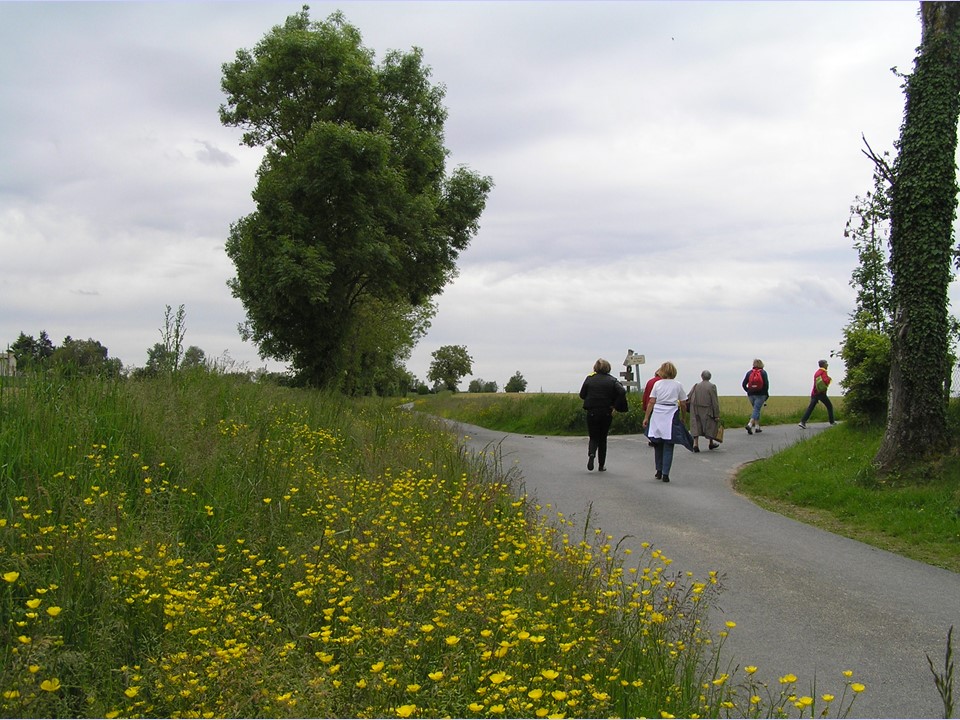 Only cultural resistance can oppose brute force at work in Gaza and Mosul by Fady Noun. "Against brute force we really only have the reaffirmation of what makes us strong, namely our fierce attachment to the happy acceptance, full of life, of others - with its joys and pains - and resistance to all forms of fundamentalism, be it Sunni, Shia or Jewish". Read more: here on Asia News.
A French Catholic delegation has been in Iraq to show support for the persecuted Christians there. Their goal is to "cry with the ones who are crying", to be there with them, listening to then, holding them and be there for them, all in a very real and practical, sincere, courageous and generous manner, lead by a spirit of charity-in-action; see their numerous videos and photos, comments and articles on facebook or Twitter : ici .
Kudos to them! Cardinla Barbarin is one of the driving force behind this initiative and the diocese of Lyon is right in my corner of France. I'm very proud of them and want to show my support by posting this and by assuring them of my gratitude and my prayers.
TEN TRICKY TACTICS OF THE TEMPTER! St. Peter compares the devil to a roaring lion who seeks the opportunity to devour his prey—that is to devour us! The devil can attack at any time and any place! He is wily, astute, highly intelligent and ruthless. However, there is one area that he is most prone to attack all of us--- that is our PRAYER LIFE! Read more: here on Fr. Bloom blog.
About God's wave! Surfers are always looking for a perfect wave, but people out there are also looking for something and we say that the perfect wave is God's perfect love, riding a wave is like spending time with God, you get great enjoyment and fulfillment." Read more: here
What is the Christian Understanding of Freedom and how is it different from the World's fake freedom? By: Msgr. Charles Pope: One of the terribly destructive philosophies is a false notion of freedom. The sinful world, going all the way back to Satan's deceit in the garden, thinks of freedom as being able to do whatever I please. In effect those who hold this, flaunt their false notion of freedom saying in effect, "I will do what I want to do, and I will decide if it is right or wrong. No one will tell me what to do." It is freedom in the abstract, freedom for its own sake, rather than for the sake of being able to do what is right Read more here on the Archdiocese of Washington site.
For an alphabetical listing
of articles and prayers on this site
please see : Site Map
Août 2014 - Le partage de la foi… en français:
Une délégation catholique en Iraq: le Cardinal Barbarin (diocèse de Lyon), Natalia Trouiller (chargée de communications) et d'autres membres, tous généreux et courageux, sont en Iraq depuis le 28 juillet, pour soutenir les chrétiens persécutés de Mosul. Voir leurs vidéos, photos et commentaires sur facebook et Twitter dans cette page émouvante : ici . Bravo et un grand merci à vous tous qui font partie de cette délégation, ainsi que tous ceux qui ont organisés ce voyage, je vous suis et vous soutien par la prière et la pensée.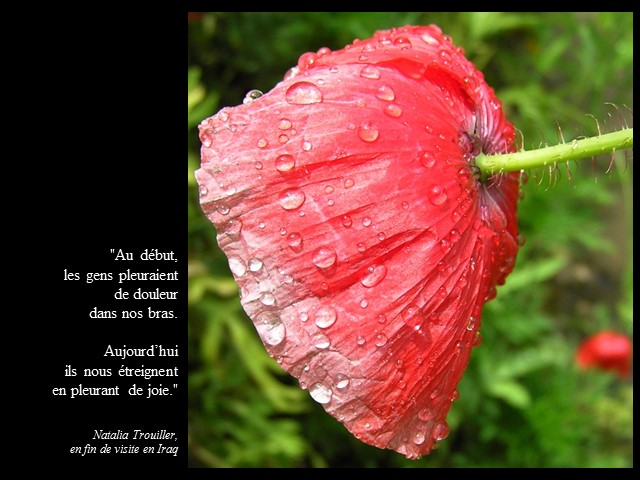 Photo prise dans le Carmel du Reposoir lors de la Halte Spirituelle du 24 juillet 2014
"Poèmes et prières, chemins vers l'invisible"
"Celui qui prie ne perd pas son temps même si la situation apparaît réellement urgente et semble pousser uniquement à l'action." (Benoit XVI, Deus caritas est).
Unis par la prière En lire plus ici sur le site de "Tous en priere.com" et regarder leur video "Le bruit du monde"!
Une icône dédiée au Pape François. Créée récemment, cette icône non traditionelle intéressera non seulement les amis de St Ignace et de St François, mais aussi tous ceux du pape François… Une icône pour aujourd'hui: L'élection d'un pape jésuite choisissant de s'appeler François donne à cette icône une portée saisissante. On pourrait d'ailleurs la baptiser « l'icône du pape François ». Lui aussi, comme évêque de Rome, doit élargir son cœur et porter la sollicitude de toutes les Églises de par le monde entier, par son ministère pétrinien. Venu lui-même d'un nouveau continent, il est par sa personnalité même un appel à entendre la catholicité comme cette communion universelle ouverte sur toutes les cultures, et intégrant leurs richesses par leurs diversités. En lire plus : ici
Esprit civique : un laboratoire d'idées « héritier du christianisme social » Alors que le courant des « cathos de gauche » semblait s'être essoufflé, il renaît sous la forme d'un nouveau laboratoire d'idées : Esprit civique. En lire plus ici sur le site de Pelerin.
Pour une liste alphabétique des articles & prières sur ce site: Site Map