Le blog de la Bergerie
Un blog catholique et bilingue, franco-américain, sur la foi, la religion, le monde et la culture,
avec des articles, des prières, des recettes de cuisine et des photos de nature.
A Catholic French-American worldview based on faith, reason and gratitude,
with articles and prayers, cooking recipes and nature pictures.
Frères et sœurs, comment vivons-nous l'Eucharistie, et que représente-t-elle pour nous ? La participation à l'Eucharistie doit vraiment toucher notre existence et notre cœur, et ne pas être seulement comme une parenthèse qui ne transformerait pas notre vie. Puisque le Christ s'est donné pour chacun d'entre nous, la messe nous conduit-elle à nous sentir vraiment frères et sœurs, fait-elle grandir en nous la capacité de nous réjouir avec ceux qui sont dans la joie, et pleurer avec ceux qui pleurent ? Puisque le Christ s'est livré pour le pardon des péchés, la messe nous donne-t-elle la grâce de nous sentir pardonnés et de pardonner à notre tour ? L'Eucharistie est une action du Christ, elle est la source de la mission de l'Eglise. Par elle, il veut entrer dans notre existence pour que, dans chaque communauté chrétienne, il y ait cohérence entre la liturgie et la vie.
(PAPE FRANÇOIS, audience générale, Place Saint-Pierre, mercredi 12 février 2014)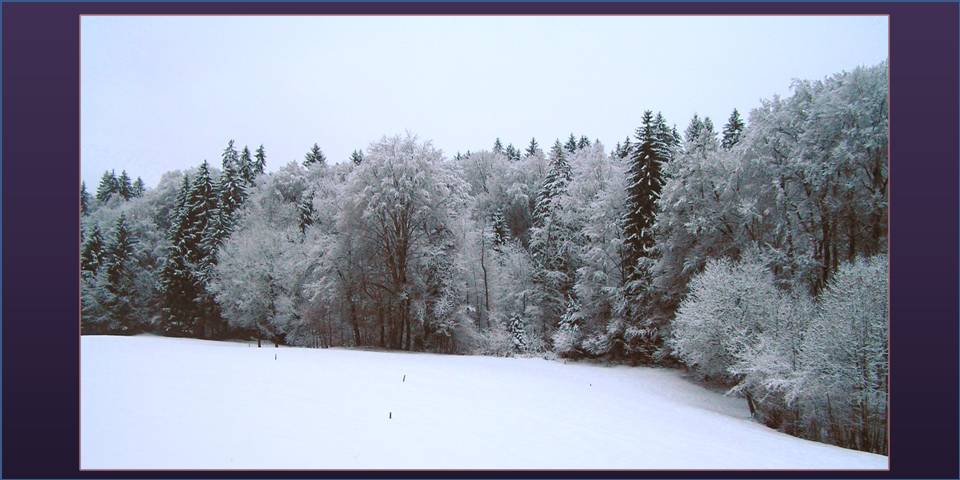 I read somewhere that Don Bosco's mother was called: "Maman Marguerite"!
Dear Saint, please pray for my own mother, give her peace and comfort in her old age.
Thank you.


"The Many Miracles of Don Bosco"
When Don Bosco arrived, he questioned the girl about her condi­tion. She had not been born blind, but as a result of eye disease her sight had been completely lost two years earlier. When he asked about medi­cal treatment, the aunt began to sob that they had tried everything, but doctors could only say the eyes were "beyond hope." "Can you tell whether things are big or small?" the saint asked.
"I can't see a thing."
He led her to a window. Could she perceive light?
"Not at all."...
Read more here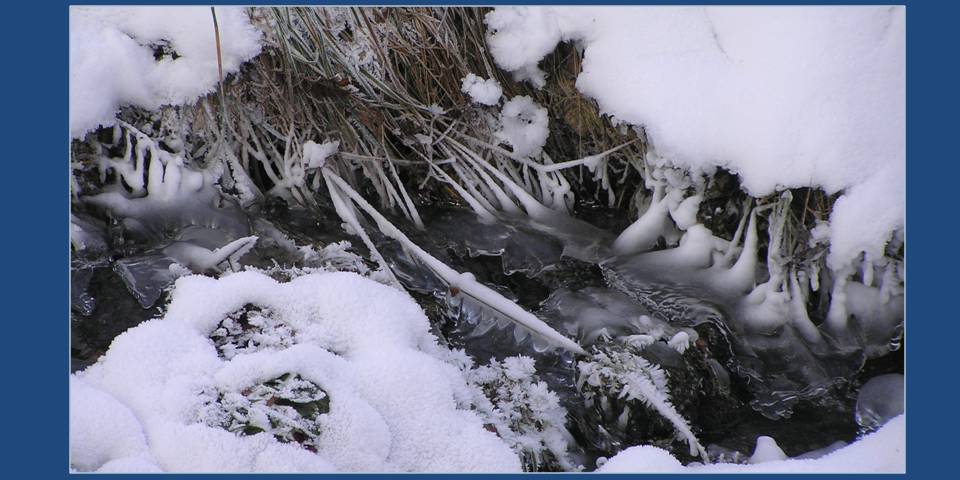 One thing I know, one thing I've learned anew recently, is that the beauty of creation (in a sunset or a snow flake) exists whether I can see it or not - just as the goodness of life is there (in the smile of a child, in a gesture of comfort and peace) whether I can witness it or not. And my heart overflows with gratefulness and praise, even when I'm too tired to say it.
Vive la naissance du Christ!
Christmas 2013.

Ant. Christ is born for us; come, let us adore him.

Psalm 95
Come, let us sing to the Lord
and shout with joy to the Rock who saves us.
Let us approach him with praise and thanksgiving
and sing joyful songs to the Lord.

READING Hebrews 1:1-4
In times past, God spoke in fragmentary and varied ways to our fathers through the prophets; in this, the final age, he has spoken to us through his Son, whom he has made heir of all things and through whom he first created the universe. This Son is the reflection of the Father's glory, the exact representation of the Father's being, and he sustains all things by his powerful word. When he had cleansed us from our sins, he took his seat at the right hand of the Majesty in heaven, as far superior to the angles as the name he has inherited is superior to theirs.

Sacred Silence (indicated by a bell)
a moment to reflect and receive in our hearts the full resonance of the voice of the Holy Spirit and to unite our personal prayer more closely with the word of God and the public voice of the Church.

INTERCESSIONS
The Word of God existed before the creation of the universe yet was born among us in time. We praise and worship him as we cry out in joy: Let the earth ring out with joy for you have come.

Concluding Prayer
Grant, we pray, almighty God, that, as we are bathed in the new radiance of your incarnate Word, the light of faith, which illumines our minds, may also shine through in our deeds. Through our Lord Jesus Christ, your Son, who lives and reigns with you in the unity of the Holy Spirit, one God, for ever and ever - Amen.


Noël, c'est Dieu qui vient à l'homme....
Un bébé dans une crèche, le merveilleux des récits, le mystère de la nativité...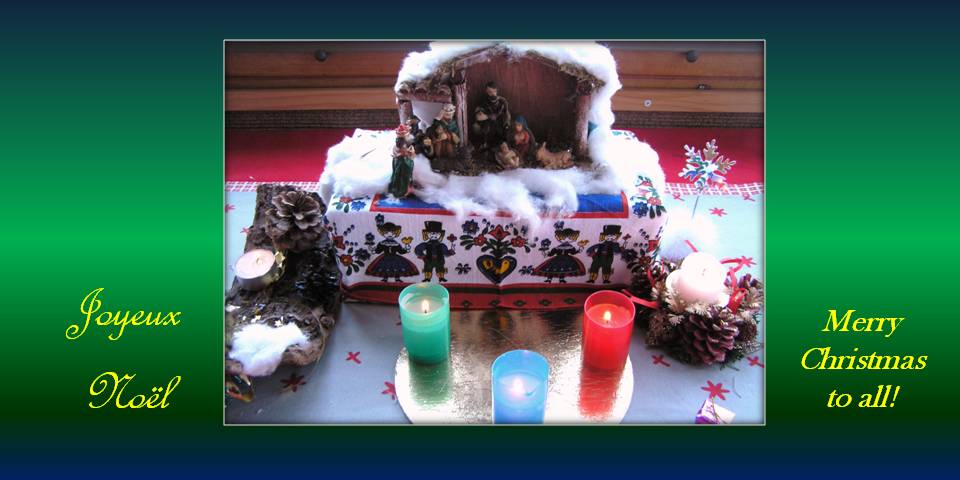 * * * . * * * . * * * . * * * . * * * . * * *

Joyeux Noël 2012 !
Pour s'incarner, le Verbe de Dieu a choisi un moment précis qui est devenu le " présent " non encore soumis a la loi du passé entravé. Le Christ lui-même a du passer par le passage étroit du présent pour introduire sa nouveauté, et pour inverser une évolution. Et ce moment, c'est l événement de la conception par sa mère, lié a l'Annonciation, et de sa naissance a Bethléem.

Today is a new day, today is December 24th 2012, it is Christmas Eve ! And tonight is the birth of Christ, the mystery of the Incarnation unfolding in front of us. Here is the true and only theory of evolution and it is that the world is LOVE unfolding in 3 moments: the Creation, the Incarnation and the Resurrection which is the beginning of the Eschatological End. God created the world out of love for his Son and made us in his image, the birth of Jesus is the key moment where He comes among us and makes everything anew, and the End will be the fulfillment, the complete revelation of God's plan. The Incarnation changed time completely, it brought us the freedom from being subjected to its linear sense to a new total - and global - freedom where we hold, through love and faith, the three moments of time within our grasp. And where we can "enter" in its fullness by being Christ-like, again and again. Deo Gratias!

This truth, this major, foundational and formative truth, exists whether I get it or not, and whether I can articulate it well or not. But - and this is the most interesting paradox - it also exists" because" of me and "for" me, I can feed and nurture this truth as long as I love and follow Christ. I'm telling you, this is amazing stuff and it has amazing consequences. It is the fullness of live. I read beautiful books (Noël et le mystère de l'incarnation par Raymond Winling) and the last book by BXVI on the infancy of Jesus, I watch the sun rise on the mountains covered with snow and I get transported with excitement for these mysteries unfolding in front of me. But don't think I'm different from anyone else because one of my major (and recurring!) problem is this: how can I grasp so much, how can I be so fulfilled with what I understand and what I see and nevertheless why is it that in my daily practical life it is such a struggle to be a better person? Although this is exactly what I want because of what I grasp I'm daily confronted with the fact that I've only been able to raise my own kindness and patience and charity to ½ notch more… when I really need - and want - to exercise it 10 notches higher!
Pour une liste alphabétique des articles & prières sur ce site: Site Map
---